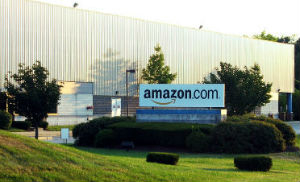 FOR IMMEDIATE RELEASE
Contact: Timothy K. Rusch
tim@fitzgibbonmedia.com
Seattle, WA – This morning, Amazon General Counsel Michelle Wilson announced at the company's shareholder meeting that the online retailer will not renew its membership in American Legislative Exchange Council (ALEC), according to multiple reports from inside the meeting. ALEC is a right-wing policy group that has worked to suppress the Black vote and attack workers and the environment. The announcement came as ColorOfChange, Working Washington, and other local and national organizations tried to delivered more than 500,000 petition signatures to the annual meeting in downtown Seattle but were turned away. The petitions call on Amazon and other corporations to cut ties with ALEC and were signed by members of ColorOfChange, CREDO Action, People for the American Way, Progressive Change Campaign Committee, SumOfUs and Fuse Washington.
"Today's announcement marks a major victory for hundreds of thousands of people nationwide who have said they believe in transparency and know that ALEC threatens the ability for everyday people to participate fully in democracy," said ColorOfChange Executive Director Rashad Robinson. "In deciding to part ways with ALEC, Amazon has acknowledged that it can't in good conscience market its services to Black communities while at the same time handing over customers' dollars to a right-wing think tank that has worked to suppress the Black vote."
The announcement inside the shareholders meeting came as hundreds of people gathered outside at an event organized by Working Washington, SEIU Local 775, and Fuse Washington to deliver 511,160 petition signatures calling on corporations, including Amazon, to stop funding ALEC. Nearly 100,000 ColorOfChange members have called on the corporations that sponsor ALEC to drop their affiliation with the group. After learning more about ALEC's role in attacking voting rights by pushing voter ID bills nationwide, more than a dozen companies — including McDonald's, Coca-Cola, and Kraft Foods — have stopped funding the group.
Today, Amazon became the 16th company to announce that it has dropped ALEC since ColorOfChange launched its campaign targeting ALEC's corporate sponsors. Amazon joins Procter & Gamble, Yum! Brands, McDonald's, Wendy's, Mars Inc., Coca-Cola, PepsiCo, Kraft Foods, Intuit, Blue Cross Blue Shield Association, Reed Elsevier (owner of LexisNexis and publisher of science and health information), Kaplan, Scantron, American Traffic Solutions and Arizona Public Service.
ColorOfChange members signed a petition targeting ALEC's corporate partners for their role in suppressing Black votes. The petition can be found here: https://colorofchange.org/campaign/alec/
# # #
With more than 800,000 members, ColorOfChange.org is the nation's largest African-American online civil rights organization.