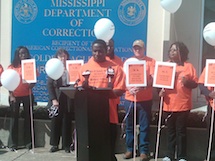 Walnut Grove, MS – On Tuesday, ColorOfChange.org celebrated the announcement that youth incarcerated at the privately-run Walnut Grove Youth Correctional Facility in Mississippi will no longer be confined in an abusive and violent environment where inmates are regularly subjected to beatings, sexual abuse, and long periods of solitary confinement.
This week, a settlement was announced in a federal lawsuit that demands that children who are housed at the facility be moved elsewhere. The facility is run by the GEO Group, the nation's second-largest operator of private prisons. More than 1,000 Mississippi ColorOfChange members joined the families of incarcerated youth in speaking out against the brutal, profit-driven practices. ColorOfChange members called on state officials to cancel Mississippi's contract with GEO Group. The youth facility has generated approximately $100 million for the for-profit entities that have operated it since 2001.
"This victory marks a major step in reforming Mississippi's notorious prison system," said ColorOfChange Executive Director Rashad Robinson. "The ColorOfChange community has sent a clear message to prison corporations like the GEO Group that they cannot continue to profit while abusing and neglecting youth in the criminal justice system."
The federal class action suit filed on behalf of inmates by the Southern Poverty Law Center, the ACLU and civil rights attorney Robert B. McDuff charged that conditions at the Walnut Grove Youth Correctional Facility are unconstitutional. The lawsuit describes the routine practice of GEO staffers peddling drugs to teenagers in their custody, subjecting them to brutal beatings, exploiting them sexually and failing to protect them from violence at the hands of older, predatory prisoners. The facility also prevents most of the youth from accessing basic educational services. Fewer than half of the 1,200 youth imprisoned there attend school.
Two youths have lost their lives in the Walnut Grove Youth Correctional Facility over the past four years, and countless others endured daily threats to their safety. The violence at the prison was highlighted two years ago when a melee broke out in the prison, leaving multiple youth injured and one inmate with permanent brain damage.
###
With more than 800,000 members, ColorOfChange.org is the nation's largest African-American online civil rights organization