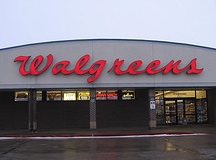 FOR IMMEDIATE RELEASE
CONTACTS: Timothy Rusch: (917) 399-0236, tim@fitzgibbonmedia.com
Rachel Tardiff: (202) 746-1407, rachel@fitzgibbonmedia.com
General Motors Company, the world's largest automaker, has ended its relationship with the American Legislative Exchange Council (ALEC). Walgreens, the country's largest drug retailing chain, has also parted ways with the right-wing policy group.
ColorOfChange Executive Director Rashad Robinson announced the campaign victories today at a press conference in Salt Lake City organized by Alliance for a Better Utah. The media event was timed to ALEC's annual meeting, which is in progress there. Robinson also announced that ColorOfChange and allied organizations have begun asking members to call the online shopping and auction site eBay and urge the company to terminate its relationship with ALEC. eBay competitor Amazon made the announcement that it had dropped ALEC during the company's shareholder meeting in May.
ColorOfChange and CREDO Action members began calling Walgreens' corporate offices last week to express concern about the company's relationship with ALEC. On Tuesday, Debbie Garza, Walgreens' divisional vice president of government relations, told ColorOfChange that Walgreens will not renew its membership. Garza emailed ColorOfChange the following statement:
Walgreens will not be renewing its membership in the American Legislative Exchange Council ("ALEC") where we have participated on ALEC's Health and Human Services Task Force. Walgreens will continue to be an active presence on critical health care and pharmacy issues facing the country and looks forward to continuing to work across the political spectrum in the public policy arena.
On Monday, Bryan Roosa, General Motors' regional director of state government relations, told a ColorOfChange staffer via email that, "GM has communicated to ALEC that we will no longer fund nor participate going forward."
"Walgreens' and GM's recent announcements that they have cut ties with ALEC is further proof that everyday people working together to hold corporations accountable can achieve tremendous change," said ColorOfChange.org Executive Director Rashad Robinson. "The ColorOfChange community applauds these companies' willingness to end their relationships with this right-wing policy group that has worked to suppress the Black vote."
"CREDO Action members believe strongly in the rights of all eligible voters to cast a ballot that counts," said Becky Bond, Political Director of CREDO Action. "That's why nearly 600 CREDO members who are also Walgreens customers hit the phones to tell the company that it is unacceptable to support voter suppression. We applaud Walgreens for doing the right thing for its customers and our country."
Walgreens and General Motors are the 29th and 30th corporations to announce that they have dropped ALEC. The companies join CVS Caremark, Best Buy, MillerCoors, John Deere, Hewlett-Packard, Dell, Johnson & Johnson, Wal-Mart, Amazon, Procter & Gamble, Yum! Brands, McDonald's, Wendy's, Mars Inc., Coca-Cola, PepsiCo, Kraft Foods, Intuit, Blue Cross Blue Shield Association, Reed Elsevier (owner of LexisNexis and publisher of science and health information), Kaplan, Scantron, Medtronic, American Traffic Solutions, Arizona Public Service, Express Scripts/Medco, EnergySolutions, and Connections Education.
"ColorOfChange commends those corporations that have done the right thing and withdrawn their funding from ALEC, which continues to defend its push to enact discriminatory voter ID laws across the nation," Robinson said. "More and more companies are getting the message that they cannot in good conscience market products to our communities while handing over customers' dollars to an organization that suppresses the rights and endangers the safety of people of color."
ColorOfChange has worked in collaboration with the Center for Media and Democracy (CMD), which launched ALECexposed.org last summer to highlight the corporations and politicians that vote on ALEC "model" bills. CMD has also documented ALEC's role in pushing controversial Stand Your Ground and discriminatory voter ID laws. Other allied organizations include Common Cause, ProgressNow, People For the American Way, SumOfUs.org and the Progressive Change Campaign Committee.
ColorOfChange members signed a petition targeting ALEC's corporate partners for their role in suppressing Black votes. The petition can be found here: https://colorofchange.org/campaign/alec/
# # #
With more than 800,000 members, ColorOfChange.org is the nation's largest Black online civil rights organization.