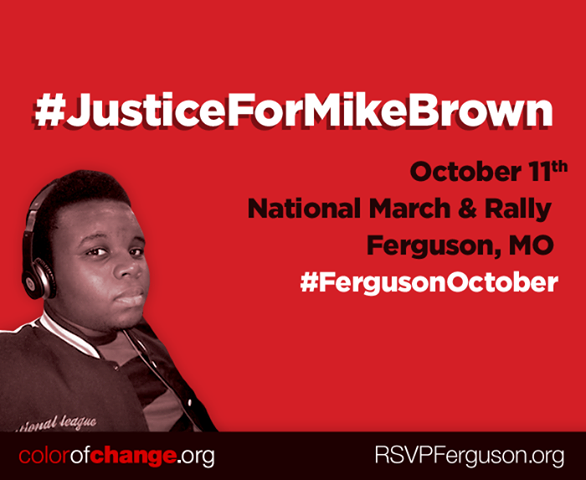 Ferguson, MO — ColorOfChange.org is supporting the Organization for Black Struggle among other partners in a national mobilization demanding full accountability for the police killing of Mike Brown and systemic reforms to end militarized, abusive, and violent policing targeting Black and brown communities across the country.
The mobilization will take place from October 10-13 and will include a National Rally and March on Saturday. Additional events to be announced.
For details see: FergusonOctober.com
In support of the mobilization, Rashad Robinson, Executive Director of ColorOfChange.org, issued the following statement:
"It is outrageous that Officer Wilson has not been arrested nearly two months after murdering Mike Brown. We see this type of denied justice time and time again after law enforcement brutalize Black and brown people, and we will not remain silent in the face of such devastating injustice. The current grand jury is a farce, and nearly 1 million ColorOfChange members and our allies support Mike Brown's family and the Organization for Black Struggle in their demand for full accountability for the police murder of Mike Brown.
"This is a historic moment; thousands are expected to attend this weekend's mobilization to build power for a national movement to end discriminatory and violent policing. The horror and pain of losing a loved one to senseless and racially motivated police violence is a daily threat to Black Americans. We demand systemic, national reforms to stop law enforcement across the country, driven by racist and dehumanizing stereotypes, from systematically stopping, arresting, and killing our children and families.
"Justice in Missouri begins with justice for Mike Brown. Federal, state, and local officials all have a role to play in ensuring accountability and an end to the policies and practices that led to his tragic death. At the very least Gov. Nixon must intervene to restore integrity to Missouri's criminal justice system and appoint a special prosecutor immediately to prosecute the case against Darren Wilson. In all the Fergusons across the country, we demand effective civilian oversight of local and state law enforcement, an end to the War on Drugs' policing tactics, improved collection of data on police use of force, and the expansion of community based policing that honors the lives, safety, and dignity of all people."
###
With more than 900,000 members, ColorOfChange.org is the nation's largest online civil rights organization.