November 2022
Nikole Hannah-Jones: Whites' Fear of Truth Triggers "Erasure" of Black History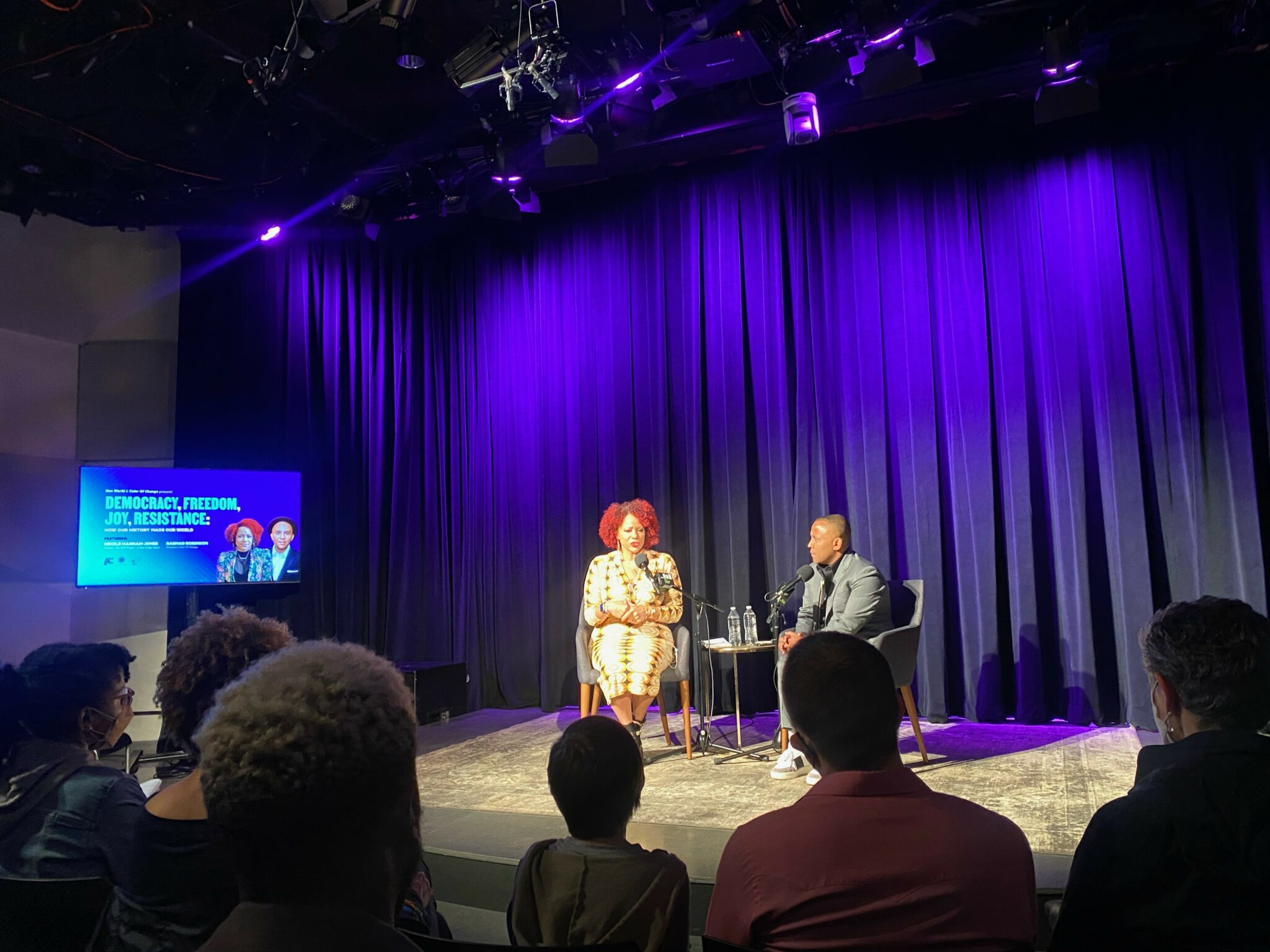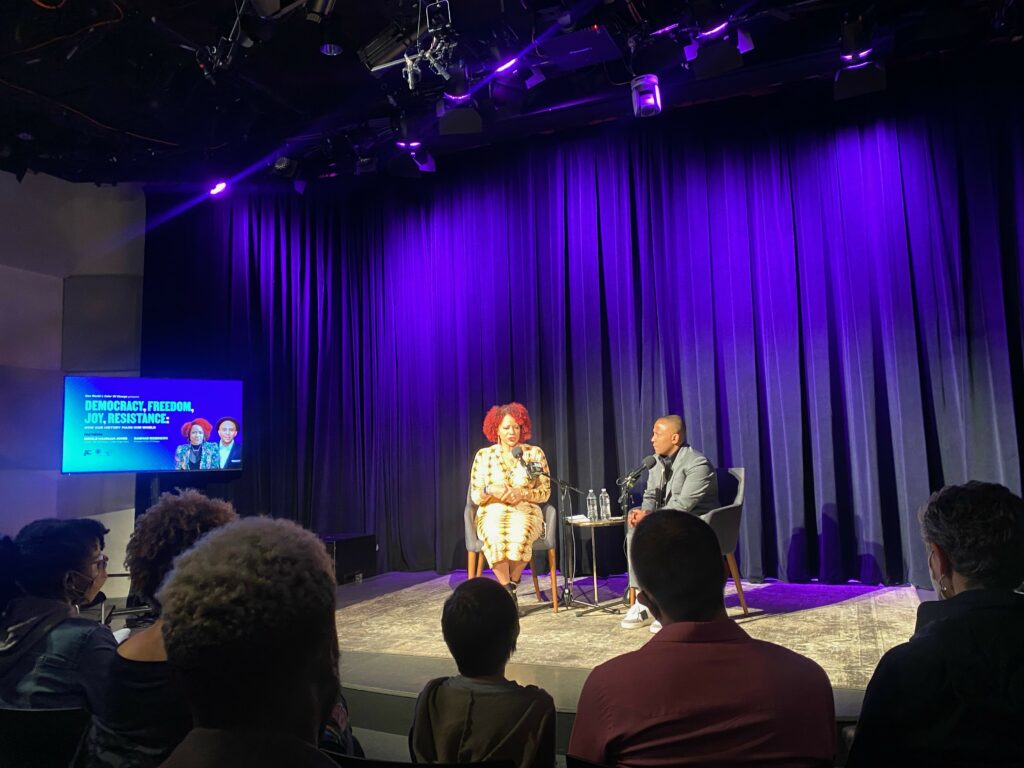 By Johnnie L. Roberts
Education for, of and about Black people in America has occupied the crosshairs of an ongoing, 403-year assault to sustain the nation's founding white ruling order. From enslavers' laws against teaching Black people to read to today's wave of banned books in the classroom, the strike against education seeks to suppress anything that advances an inclusive, expansive and vibrant America.
In compelling detail, journalist and Howard University Professor Nikole Hannah-Jones, the widely acclaimed creator of the landmark "The 1619 Project: A New Origin Story," wove that provocative theme during a recent public conversation with Rashad Robinson, president of Color Of Change.
The event, live-streamed on Oct. 25 from The Greene Space in New York City, was part of the "Black History Now" series launched this fall by Color Of Change, the nation's largest online racial justice organization.
The series features Robinson and other COC senior staff in conversation with thought leaders about the role of Black history in U.S. history in areas of education, politics, business and health. The interview with Hannah-Jones and an earlier conversation with Professor Kimberlé W. Crenshaw, co-founder and executive director of the African American Policy Forum and a leading scholar on critical race theory, are available online.
"The same instinct that led powerful people to prohibit Black people from being able to read is the same instinct that's leading powerful people to try to stop our children from learning histories that would lead them to question the unequal society that we have as well," Hannah-Jones said.
Dating to 1619, when the first enslaved Black Africans arrived in Virginia and the New World, the racist effort to circumscribe education has been executed with precision, Hannah-Jones said.
"Black people were the only people in the history of America for whom it was ever illegal to learn to read and write," Hannah-Jones said. "Books were considered contraband."
Against that milieu, she said, a sinister myth took root.
"One of the most nefarious stereotypes is that … we are the only people in the world who don't value education," Hannah-Jones said, recounting awe-inspiring slave narratives that belie the fallacy.
One such chronicling was of how the enslaved, given Sundays off from dehumanizing toil, spent the time stealthily striving for literacy — for example, hiding in dugout pits in the woods to teach themselves to read from a secreted copy of Noah Webster's "Blue Back Speller." After emancipation, schools and churches were the first institutions built by former slaves.
"Public education didn't exist in the South during slavery," Hannah-Jones said. "Even white children didn't have access to public schools. The first thing that liberated Black people did was push for public schools to serve all children."
Having transformed Hannah-Jones into one of the most celebrated and most controversial public intellectuals of the day, "The 1619 Project" exemplifies an insidious aspect of the centuries-old crusade to curtail Black education to buttress the dominant white status quo.
She spoke movingly with Robinson about "erasure"— white peoples' deliberate purge of Black experiences integral to the nation's evolution. Learning at age 15 of the 1619 arrival of Black Africans was especially resonant for her. The date was "foundational" in the life of the nation, Hannah-Jones told the audience and listeners. Yet, it never was mentioned during the bulk of her schooling.
"Realizing that we'd been here (in the New World) before everyone who got credit for building the country…helped me understand the power of erasure — that 1619 had happened, but people had chosen to not teach us about that date," she said.
Powerful forces that benefit from the status quo still don't want it taught, she said. A backlash ensued after the New York Times published "The 1619 Project" in 2018. Legislation to strip federal funding from schools that taught "The 1619 Project" was introduced by Sen. Tom Cotton of Arkansas and Senate Minority Leader Mitch McConnell of Kentucky, both Republicans and "both descendants of enslavers," she noted.
While critics' primary attack was that "The 1619 Project" was "unpatriotic," Hannah-Jones suspects an ulterior motive.
"What they are concerned about is using parents' fear of their children being taught things that they don't like to stoke a racial divide, to use the oldest political wedge issue in America — race," she said. "And I also think it is to de-legitimize public schools. I think both of those things are happening hand in hand."
The backlash "speaks to the power of this project," Robinson responded. "People wouldn't be coming for it if you weren't succeeding," he told Hannah-Jones. "In many ways, 'The 1619 Project' has been opening so much of the progress that we've seen in racial justice in the last 10 to 15 years."
Robinson talked about Color Of Change's work around the country "taking the fight around Black history" not only to cities where Black history has been under attack, but to "places where we've been trying to build local political power and engagement."
"We've been producing Children's Carnivals in a lot of communities, which has been really exciting," he said. "We're bringing young people and their families together and having spaces where we are celebrating Black history."
The latest event, held Oct. 23 in Oakland, California, featured information about the lives and accomplishments of some of America's most historic Black figures that were woven into fun-filled activities for children and families.
The event also helps to build power through collective action by people across the nation who believe Black history is U.S. history and should be a part of every school system's curriculum.

Robinson will be in conversation with other Black thought leaders. Those conversations will be presented by Color Of Change in the coming weeks. Stay tuned.
To view Robinson's conversation with Nikole Hannah-Jones, click here. To view the conversation with Kimberlé W. Crenshaw, click here.