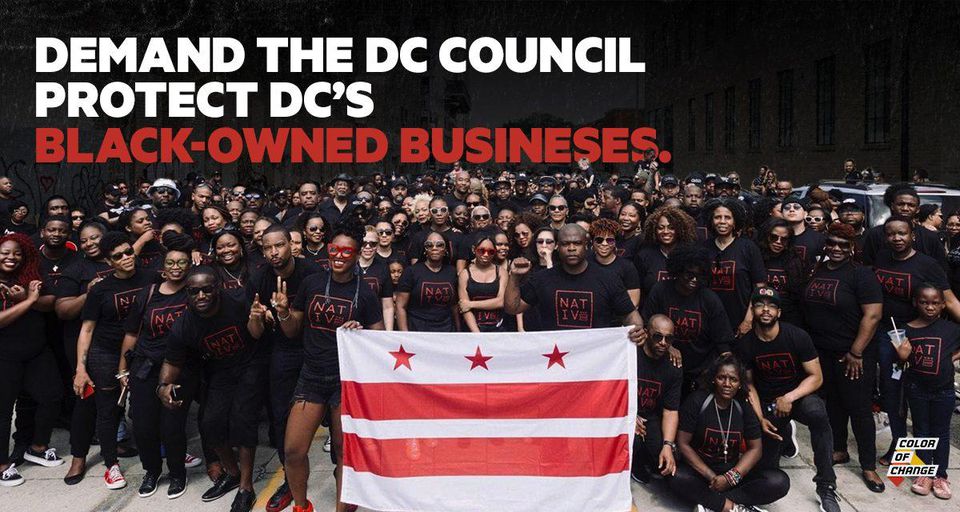 Color Of Change Shifts Focus to Broader Fight Against Gentrification in D.C.
—
D.C. Council and local governments must implement tax policy to fight gentrification, protect Black-owned business, revitalize communities
Washington, D.C.–  Today, the D.C. Council voted to approve B23-0075, which provides a 10-year tax abatement for the historic Sankofa Video, Books & Cafe, after it faced a $30,000 tax bill as a result of cost increases driven by gentrification. In response, Color Of Change Senior Campaign Director Brandi Collins-Dexter issued the following statement:
"We breathe a sigh of relief knowing that this important community institution has been protected from closure. This victory belongs first and foremost to Sankofa's owners and the thousands of D.C. residents, students, and Color Of Change staff and members who they have nurtured with the store's rich cultural offerings.
While we are pleased by the leadership of Councilmember Brianne Nadeau and her colleagues who supported the bill, they cannot resolve the crisis of financial instability looming over the district's remaining local, Black-owned businesses on a case-by-case basis.
The D.C. Council's policies have played an outsized role in gentrifying the 'Chocolate City'– only a systemic overhaul  will fix the problem they have helped create. By gifting tax abatements to large corporations and overturning a living wage increase for D.C.'s disproportionately Black tipped-wage workers, the D.C. government has simultaneously lined the pockets of millionaires and billionaires and taken money out of the Black community.
Local leaders, including in D.C., have a critical opportunity to level the playing field for local, Black-owned businesses by expanding B23-0075. Lawmakers can begin by utilizing tax abatements to protect Black-owned businesses, not push them out.
Over 11,000 Color Of Change members put their support behind Sankofa's preservation. Now, our fight will shift to addressing the broader problem: to ensure that community money stays in the community and that tax abatements reflect the wishes of community members."
For two decades, Sankofa Video, Books and Cafe has been a cultural institution in the historically Black neighborhood surrounding Howard University, serving the university's professors and students as well as community members interested in African literature, culture, and food.
After learning that Sankofa faced a $30,000 property tax bill that threatened its closure, Color Of Change mobilized its 1.5M million members to pressure the D.C. Council to protect local Black-owned businesses. Over 11,000 members signed a petition calling for the passage of B23-0075 and further legislation for tax abatement and rental relief to protect other DC-native Black-owned businesses.
Previously, Color Of Change mobilized its members to fight back against the D.C. Council's efforts to overturn the will of voters by repealing Initiative 77. The initiative, which would have mandated restaurant workers' right to a regular, reliable income, passed overwhelmingly in every ward east of the Anacostia River, including Wards 7 and 8, which are the lowest income wards with the highest Black populations in D.C. Ultimately, at the behest of corporate interests, the Council voted on October 2, 2018 to repeal Initiative 77.
Once known as the "Chocolate City" for its thriving Black neighborhoods and rich culture, D.C. has been declared the most gentrified city in the country.
###
About Color Of Change:
Color Of Change is the nation's largest online racial justice organization. We help people respond effectively to injustice in the world around us. As a national online force driven by over 1.4 million members, we move decision-makers in corporations and government to create a more human and less hostile world for Black people in America.  Visit www.colorofchange.org.