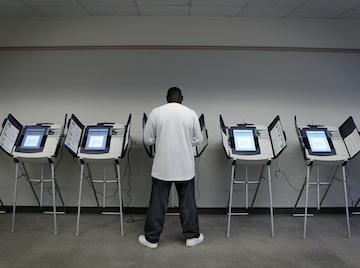 FOR IMMEDIATE RELEASE
Contact: Timothy K. Rusch tim@fitzgibbonmedia.com
Members of the American Legislative Exchange Council (ALEC) meet in Charlotte today to continue the right-wing policy group's decades-old practice of crafting legislation behind closed doors rather than in view of the public. They are gathering in North Carolina — a state where legislators pushed through a voter suppression bill based on ALEC model legislation that was vetoed by the governor last summer.
As a result of that veto, all eligible North Carolina voters still have access to the polls. But many other Americans have not been as lucky, and voter suppression bills — backed by ALEC and corporate sponsors such as State Farm, AT&T, Johnson & Johnson and Amazon.com — stand to disenfranchise as many as 5 million voters, with a disproportionate impact on African Americans, Latinos, the elderly, students, people with disabilities and the poor. Thirteen companies have dropped their association with ALEC since tens of thousands of ColorOfChange members began asking companies last December how they could justify bankrolling a group that suppresses the Black vote.
"ALEC pushes policies designed to benefit rich and powerful corporations at the expense of people of color, workers and the environment. We applaud those companies that have stopped funding the group," said ColorOfChange.org Executive Director Rashad Robinson. "Our members will continue to hold accountable companies that associate with an organization that has attacked voting rights."
Confronted with the campaign's success, ALEC announced it would disband its Public Safety & Elections Task Force, the committee responsible for the voter suppression bills and "shoot first" laws like the one that helped Trayvon Martin's killer avoid arrest for more than a month in Florida. ColorOfChange wasn't convinced by ALEC's announcement and labeled it a PR stunt. These suspicions were confirmed when the Texas legislator who had chaired the disbanded committee told a newspaper reporter that the work of this task force would simply be moved elsewhere within ALEC.
Before the Public Safety & Elections Task Force was ostensibly disbanded last month, its agenda for today's meeting was more than 50 pages long. This task force had long been engaged in drafting and promoting bills that lengthen prison sentences and privatize prisons. Six pieces of model legislation were slated for consideration today in Charlotte, including one related to elections and two related to criminal justice.
"Because ALEC lacks transparency and is secretive by nature, the public cannot know whether these bills — which stand to have direct, negative impact on Black communities — will simply be considered by some other task force," Robinson said.
In December of last year, ColorOfChange members began signing a petition targeting ALEC's corporate partners for their role in suppressing Black votes. The petition can be found here: https://colorofchange.org/campaign/alec/
The list of companies that have announced a departure from ALEC since ColorOfChange launched its campaign is as follows: Procter & Gamble, Yum! Brands, McDonald's, Wendy's, Mars Inc., Coca-Cola, PepsiCo, Kraft Foods, Intuit, Blue Cross Blue Shield Association, Reed Elsevier (owner of LexisNexis and publisher of science and health information), American Traffic Solutions, Arizona Public Service and Kaplan.
National Board for Professional Teaching Standards and the Bill and Melinda Gates Foundation have also left ALEC, after hearing from other Americans who are concerned by ALEC's agenda.
# # #
With more than 800,000 members, ColorOfChange.org is the nation's largest online civil rights organization.