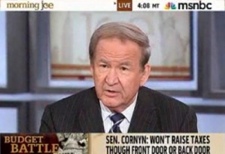 New York, NY – African-American civil rights organization ColorOfChange.org today responded to MSNBC's decision to indefinitely end Pat Buchanan's time on air. Over 86,000 ColorOfChange members called on MSNBC to end their ties with Buchanan.
"ColorOfChange.org welcomes MSNBC's decision to indefinitely supend Pat Buchanan," said ColorOfChange.org Executive Director Rashad Robinson. "However, it's time for MSNBC to permanently end their relationship with Pat Buchanan and the hateful, outdated ideas he represents. We appreciate this first step and urge MSNBC to take the important final step to ensure that their brand is no longer associated with Buchanan's history of passing off white supremacy ideology as mainstream political commentary."
ColorOfChange.org launched their campaign calling on MSNBC to fire Buchanan after his appearance on white nationalist radio program The Political Cesspool, where he promoted his latest book. The Political Cesspool describes itself as representing "a philosophy that is pro-White … We wish to revive the White birthrate above replacement level fertility and beyond to grow the percentage of Whites in the world relative to other races." The show has a reputation for being racist, sexist, anti-gay, and anti-Semitic. In calling for his firing, the group also cited a long history of bigoted rhetoric from Buchanan.
https://colorofchange.org/campaign/buchanan/original_email/
ColorOfChange.org was joined in their campaign by CREDO Action. CREDO Action began calling for Buchanan's firing this summer, and stepped up its efforts since Buchanan's appearance on white supremacist radio. The two groups collected over 275,000 petition signatures calling on Buchanan's firing. In addition, members made calls to MSNBC demanding that the network cut ties with Buchanan. Buchanan has not appeared on MSNBC since the launch of the ColorOfChange campaign.
###
With more than 800,000 members, ColorOfChange.org is the nation's largest African-American online political organization.